Retail Futurist: re-imagining Lego's Toy Story
Toy Story Reinvented: Lego
You'll remember the famous plot. It's one we can all relate to (if we still remember childhood). In Disney/Pixar's animated movie, Toy Story, the toys pretend to be lifeless when humans are around, but come alive when we look away. Woodie, is a pull-string cowboy, and the leader of a pack of toys belonging to a fellow called Andy. With Andy's family about to move houses a week before Andy's birthday, Andy is due to have an early birthday party with his friends, enabling the toys to stage a reconnaissance mission to find out what new, innovative, cool toys Andy is about to receive. To their shock and horror, they find a teched up space ranger - Buzz Lightyear - whose impressive features intimidate the more old school Woodie. The inevitable thing happens, as it does with kids, as Andy's affections turn away from Woodie, and are instead concentrated on Buzz Lightyear. Kids' tastes change quickly, and this movie tunes into the emotional side of toys, and the feelings of being discarded in favour of something new. Yes, the toys in the movie are anthropomorphised, but the movie became a hit also because it is easy to relate to this story as a human being.
For anyone that's been in a romantic relationship that ended, or experienced a friendship where tastes changed with time, know what I mean.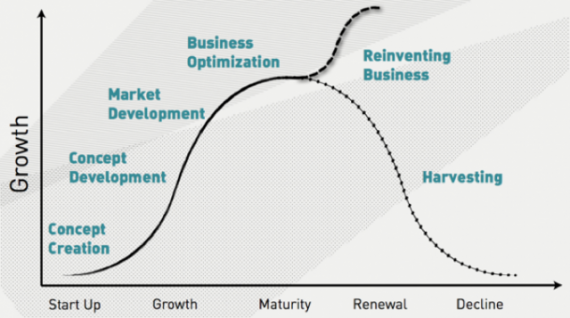 The movie reminds me of my own toy story, one centred on a temporal romance with Lego.
These toys are in serious business. And they are a bit of a timeless act, yet they have moved with the times in a timely fashion. I remember how distinctly Lego featured in my upbringing in Sweden in the early 1980s. I also remember being somewhat of a pest each weekend. There was a toy store called 'Stor & Liten' [Big and Small] in Stockholm that my father dreaded going to because of the crowds, and the way they amped the heating. Lego was so ingrained into my mind, and their brand had brandwashed me, to the great delight of my parents. Particularly my Dad who looked after my brother Gustaf and me on Saturdays, because my retail mum was working at Georg Sörman on Saturdays. I must have been an extreme pest, or just delightfully charming, because my Dad would indulge Gustaf and me by going to 'Stor & Liten' and when we had saved up enough 'veckopeng' (weekly allowance), occasionally we could invest in Lego.
One particular Christmas, just before the annual re-run of the 1982 epic Ivanoe, based on Sir Walter Scott's novel of the famous knight, on TV Channel 2, I was given the Lego Castle set. I was really into history, or rather knights as my Dad would point out, at the time. And I remember spending a whole winter's day with Dad in the kitchen, engineering this castle to perfection. I still remember the feeling, and today when I Google image searched the Lego set, I had physical "Lego goosebumps" and childhood memories came flashing back.
To me Lego was so cool.
So much so, that I had dreams of going on a family holiday to Lego-land in Denmark, the provenance of the brand. As a child does, and slightly envious of my friend Fredrik who had travelled there with his parents and brother, I once wrote a fictitious tale at the age of 6 of going to Lego-land. This was really embarrassing, because at kindergarten I had apparently claimed that it was a non-fictitious, biographical account of our family holiday. It became even more embarrassing when my Dad presented me with a binder of my kindergarten musings in 2011.
In his diplomatic ways, he said something to the effect of 'well, you've always had a rich imagination'. I blame Lego.
My love affair with Lego lasted throughout the 1980s, and formed a rich part of my childhood. These little bricks had something magical to them. It was like IKEA, but for kids. And Danish, rather than Swedish.
My love affair with Lego was discontinued by technology.
In 1988 I was introduced to the 8-bit Nintendo at my friend Tim's place. Digital video games started coming between me and my stationary, analogue connection with Lego's bricks.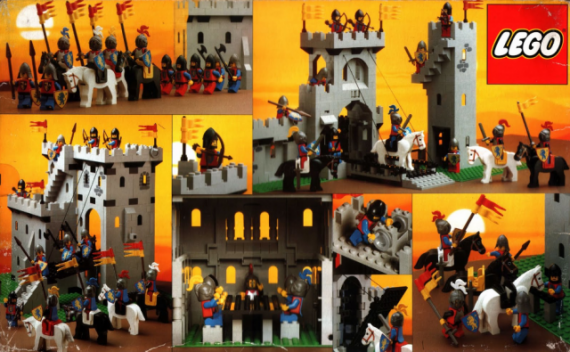 Timeliness and timelessness
But this is not a story about my fascination with, and later rejection of Lego in favour of Nintendo. It's a story about how a little brick managed to sustain relevance, and emotional connection through time despite the macro threats of digital disruption, and the entry of nimble start-ups in the toy market. Lego is an old family company, and is still privately held. And what I love about Lego is how it has combined timeless wisdom with timeliness in its re-invention moves. While the bricks were introduced in 1958, the company dates back to 1934, when the founder, Ole Kirk Christiansen decided to call his wooden toys company Lego, after the Danish expression 'leg godt' [play well]. The modern Lego brick was patented on 28 January 1958, and bricks from that year are still today compatible with current bricks, speaking to the timeless quality of the bricks.
Since inception, Lego has had an obsession with quality, and its original mantra that 'det bedste er ikke for godt' ["the best is never too good"] is still part of the company's quality framework. The brick has withstood the test of time as a result of this quality focus, and the company's willingness to continuously innovate. In 2012 BBC asked Open University's engineering students the quality question "how many Lego bricks, stacked one on top of the other, would it take to destroy the bottom brick?". According to their calculations it would take a stack of 375,000 bricks to cause the bottom brick to collapse, which represents a stack 3,591 metres (11,781 ft) in height. The brick system in and of itself adds further dimensions to the enduring quality and interest in the bricks, as six 8-stud bricks can be arranged in 915,103,765 different ways. This enduring quality, marinated in continuous innovation, is one of the reasons why Lego was chosen by Fortune Magazine as the toy of the 20th century, ahead of Barbie and the Teddy Bear. Not bad for a collection of bricks.
This toy brand is not only serious play, it's also serious business.
Annual production of Lego bricks now averages approximately 36 billion per year, or about 1140 elements per second. If all the Lego bricks ever produced were to be divided equally among a world population of six billion, each person would have 62 Lego bricks (as you can tell production has picked up more recently). According to an article in BusinessWeek in 2006, Lego could be considered the world's No. 1 tire manufacturer; the factory produces about 306 million tiny rubber tires a year.
However, at the beginning of the 2000s the business was in serious trouble.
Digitisation of play, changing tastes among kids, expired patents, piracy, increasing buyer consolidation and power, and a fat supply chain had led the company into the red. Annual sales collapsed by 25% in value to 8.5 billion Danish kroner in 2003. Net losses doubled between 2003 and 2004. 4 out of 7 years between 1998 and 2004 resulted in losses. It laid off 12% of its payroll in 2004. At this time Lego executives estimated that the company was destroying ∈ 250,000 in value - every day. Lego was a strong brand going through a deep crisis, as you can see in Figure 9.4. The family that had founded and run the company knew they had to change direction. As Kjeld Kirk Kristiansen, grandson of the firm's carpenter founder said 'when the map no longer corresponds to the field, one ought to change the map'. Wise move, it would turn out.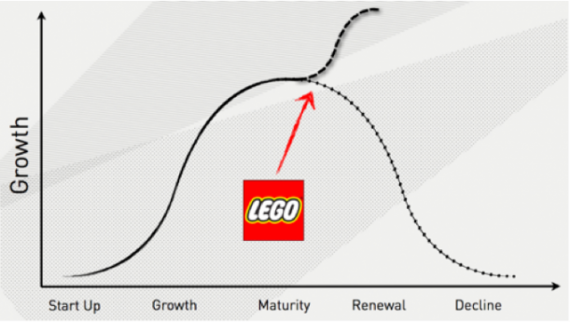 * Lego's Business Life Cycle in the early 2000s
Lego brought in new thinking. Reinvention. Rejuvenation. Rebirth. At the last hour. The company promoted Jorgen Vig Knudstorp to the position of CEO. His mantra 'there are no sacred cows' symbolises the coming re-invention of the company. Leadership zoomed out and canvassed the supply chain, the external environment, focussed the company on their core capabilities, and re-positioned it to be on trend. Over the last couple of decades the company had diversified into theme parks, like the one I imagined I had been to, clothing lines, and movies. Simplicity now replaced complexity. And its classic strength in old school non-electronic toys became its life line again. 30 products generated 80% of sales, while two-thirds of the company's 1,500+ stock keeping units were items it no longer manufactured. Three quarters of the company's sales each year were from nonelectronic games, and the company's brand strength amongst its key consumer group (1-11 year-olds) was undisputed, and became a key building block in the company's rejuvenation efforts. Excuse the pun. Transparency and brutal honesty with reality became culturally engrained. Knudstorp admitted 'that the focus on electronic competition was really a blame game'.
Digital and analogue - digilogue - was the way forward.
So what did they do? Lego's product line was reinvented to focus on its historic core, profitability and simplicity, which meant that the previously complex supply chain became extremely lean. Importantly, the products Lego chose to focus on were both timeless and timely. Some Lego lines were inspired (and on license) by blockbuster movies like Avatar, Harry Potter, and Batman, and complemented on occasion by branded digital video games as in the cases of Lego Star Wars and Lego Pirates of the Caribbean, while also staying relevant in the digital space by enabling Lego Digital Design, a software program for elder Lego fanatics who want to co-create their own models with Lego, for customised assembly.
By 2005 stock turnover had increased by 12%, and in 2005 Lego had recorded its first profits - ∈ 61 million - since 2002. Lego kept on this path and since 2005 has developed to triple in size, while keeping profitable, and ensuring that 50% of its revenues come from its classic lines. In 2011 it posted revenues of ∈ 2.510 billion, operating income of ∈ 759 million, and net income of ∈ 558 million. Knudstorp said in a 2011 interview that 'the best way to protect ourselves against the crisis in Europe and North America is to continue to re-invent the product and the brand'. He matches this timeliness with timeless wisdom by saying that 'it's very important that Lego never changes its heritage. We are about putting bricks together, being able to play with them, and taking them apart again, and that is the same whether we are in London or Beijing. That will never change.'
Timelessness and timeliness combined.
And what has ensued is that instead of entering the harvesting period of decline, the brand has kicked into a new paradigm, and rather than riding a wave like curve, it is instead creating an S-curve.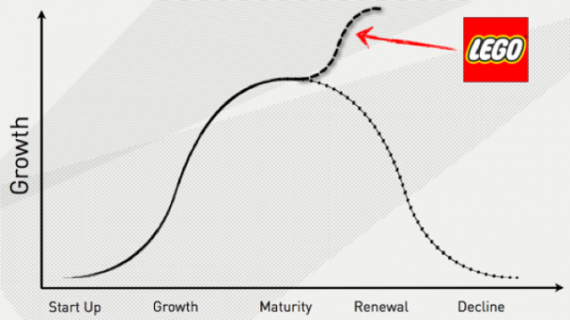 * Lego's Re-Invention at the Top of the Crest
Lego's re-invention strategy hit the nail on the head.
1. Lego spotted what was going on around them. They identified the trends impacting them and where they were at in the life cycle. Consequentially, they took a brutally honest view of their internal and external environment.
2. They got a feel for the underlying currents of change. They asked themselves what these currents meant, where they stemmed from and how any (perceived) change in customer behaviour impacted their business.
3. They re-positioned their business to ride the waves of change. They worked out which of Lego's core capabilities were in-tune with the waves of change, and they figured out how to communicate those capabilities in an engaging way to the market.
This doesn't mean Lego's leadership can rest on their laurels. But it does mean that they navigated an extremely sensitive time in the business life cycle, and their rejuvenation, and the results stemming from that renewal, are testament to their ability to withstand the test of time. Not by relying on what they have always done, but rather focussing on both timeless wisdom, and timely, strategic action.
How do you re-invent, rejuvenate, and refresh your brand?
Contact futurist-in-residence Anders Sorman-Nilsson and his team at Thinque now.
*This is an excerpt from retail futurist Anders Sorman-Nilsson's latest book Digilogue: how to capture the digital minds and analogue hearts of tomorrow's customer (Wiley & Co, 2013).